The miniature copy of Turkish sites
If you don't have enough time for proper Istanbul city tour and like to explore the sights of Turkey in a short time. Or you are visiting one of the palaces in Istanbul and you feel a sudden urge to be in Konya in Mevlana Mausoleum; then Miniaturk is the place that you have to visit.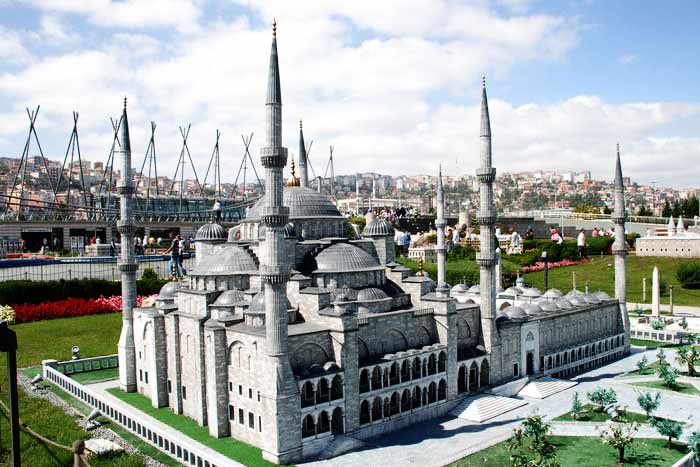 The museum that reveals the cultural and architectual heritage of 3000 years of Anatolian history, the Miniaturk opened in 2003 on the Golden Horn.
Miniaturk had been inspired by a similar theme park in the Netherlands.
We can easily see Hagia Sophia, Topkapi Palace, Blue Mosque, Mount Nemrut, Artemis Temple there. And even Bosphorus Bridge that we can walk on. These and hundreds more dwellings, bridges, palaces, mosques, sanctuaries, towers built by people who lived and established civilizations in Anatolia can be seen in the park. The world's largest miniature park covers an area of 60,000 m2 and consists of three main parts; the biggest of which is 5ooo m2 area of models, Mini-Turkey Park. The other two parts are Miniaturk Panorama Victory Museum and Crystal Istanbul.
Istanbul city tour cannot be replaced but the theme park can be an inspiration for the visitor to visit the original sites.
Istanbul city Tour – Mini-Turkey park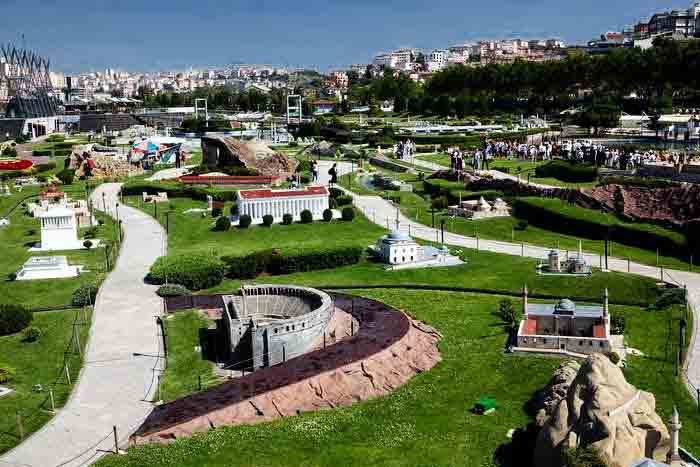 The works to be exhibited in Mini-Turkey park were selected by professors. And they were reproduced after being scaled down by 1/25, the standard ratio in the world for miniature museums. Bosphorus Bridge is the only model that is exceptional to the proportion and is 43 metres long. The model of the bridge has been built according to a proportion of 1/23; which allows visitors to walk on it easily and safely.
Mausoleum of Mevlana
The Mausoleum of Mevlana (built in 1274 in Konya) is the first model to see. As we all know or have heard about Mevlana's love and tolerance, we cannot but understand the idea of that. It is very symbolic and greets the visitors, 'Come, come again! Infidel, fireworshipper, pagan. Whoever you are, how many times you have sinned, come!'
Crystal Istanbul, the world's first and only crystal museum, exhibits sixteen artifacts of Istanbul with coloured lighting in a darkened exhibition room. It gives Miniaturk different flavour. It is possible to see Rumeli Fortress, Fatih Mosque,Dolmabahçe Clock Tower and Eyup Sultan Mosque among the works embroidered in glass via laser. The Galata Tower, The Hagia Sophia (private tour Istanbul), St. Antoine Church, The Maiden's Tower, Ciragan Palace, Suleymaniye Mosque and Istanbul University are also embroidered in crystal blocks.
We shouldn't forget to mention another important thing about Miniaturk. The sites are introduced in six languages – Turkish, English, German, French, Russian and Arabic. There is an audible guide system in front of every model.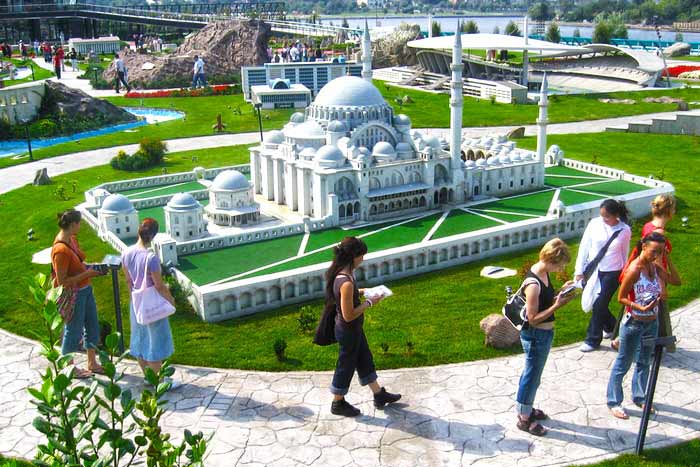 The complex also houses a gift shop, a restaurant with indoor and outdoor seating, a cafe, a shopping centre, a cinema, an exhibition hall, a library, a playground, a labyrinth and an open air theatre. It is also a place children can enjoy and have fun.
Miniaturk gets mixed reviews from visitors. However, it is nonetheless a good option to spend a sunny day in Istanbul with children while soaking up a bit of Turkish history. It's best, of course to join Istanbul city Tour or private Istanbul tour and see the originals.
I am specialist on doing tailor-made tours. Please contact us with the size of your group for a free quote with no-obligation.